Exceptional Customer Service
From answering the first phone call to hammering in the last nail, we strive to make our clients' experience positive.
Building and renovating can be a stressful process, and we do everything possible to minimize the inconveniences for our clients.
Our contracts are clear, thorough and written in plain English.
Clients have one project manager and one lead carpenter from the start of their project until it is finished.
Frequent communication and weekly meetings between the client and project manager keep everyone updated throughout the project.
We make sure that the punch list of little details at the end of the job gets taken care of carefully and promptly.
But our customer service doesn't end when the job ends. We follow up to make sure the client is satisfied, checking in before the one-year anniversary to see if there is anything that needs our attention.
Our goal is to build more than a beautiful home or office. We want our clients to have a pleasant experience throughout the building process.
Designing for Your Lifestyle Needs
A well-designed and well-constructed space – where beauty and function work together – can change the way you live and work. At Integrity, we strive to enhance your life by improving your home or business, fitting your lifestyle and your budget.
Heidi Flanders, Integrity's principal designer, is adept at client-based design and understands that the lifestyle needs of a couple just starting a family differ from a retired couple. She has the ability to design to a family's current needs as well as to understand the accommodations that will be needed 10 or 20 years down the road. In this way, Heidi helps keep clients in their homes for a longer period of time without the need for further, extensive renovations.
To help visualize design plans, Heidi offers three-dimensional, computer-generated modeling as well as traditional plans.
She also has a thorough knowledge of materials and costs and takes that into account when planning the design of your dreams.
Integrity's Aging-in-Place Program
For clients who want to extend the time they stay in their own home independently, Heidi, a Certified Aging-in-Place specialist, offers the latest, innovative ideas for renovations that are practical and aesthetically pleasing. She is expert in adding the right safety features to your home that will accommodate your changing needs in the future—without sacrificing style.
For more information on the Certified Aging-in-Place Specialist, please visit http://www.nahb.org/generic.aspx?sectionID=717&genericContentID=46799
Building Fine Craftsmanship Into Every Project
From pouring the foundation to installing the last drawer pull, Integrity's project managers, field staff and subcontractors have the expe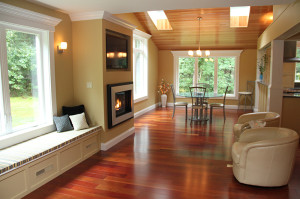 rtise and craftsmanship to build houses that will fulfill dreams and remain sound for generations to come.
We employ our own carpenters and a full-time painter to ensure that the quality of craftsmanship from framing to finish meets our high standards.
Every electrician, plumber, engineer and excavator we use is given clear instructions and understands our expectations for quality work, finished on time.
We use only quality, durable materials from trusted local suppliers and stay abreast of new building materials and technologies to benefit our clients.
We also strive to keep the carbon footprint of materials at a minimum by taking into account how green materials are manufactured and transported.  We offer energy-saving strategies to reduce the cost of our clients' long-term utility bills by assessing the complete thermal envelope—the air-tight seal for the home—and making recommendations based on our findings.